Sinners is a fictional rock band. This site is for entertainment purposes only.
The band members of Sinners appear in the series of erotic romance novels, Sinners on Tour, by Olivia Cunning.
Visit: www.oliviacunning.com for more information on the novels.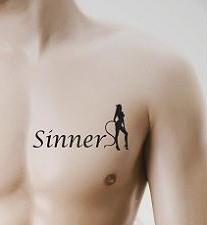 sinnerzfan4life shows off his new tat
Unfortunately, I had to crop out the rest of the picture. Jerry says no nudity allowed on the official site.
-Trey
Check out all the Sinners' fans and their awesome tattoos! Trey has a little something to say to each lovely lady. Just click on the mosaic below to take a closer look.