Sinners is a fictional rock band. This site is for entertainment purposes only.
The band members of Sinners appear in the series of erotic romance novels, Sinners on Tour, by Olivia Cunning.
Visit: www.oliviacunning.com for more information on the novels.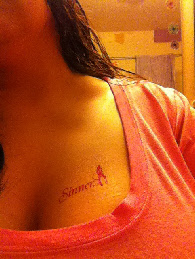 Angel Racks Up Sinners
Damn girl, you know I'm just getting over a head injury, right? I need to keep at least a little blood in the big head.
-Trey
Entry 1
Back to Sinners Ink Main Page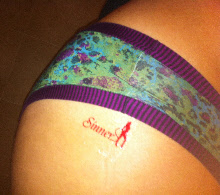 Jenny's Less X-Rated Pic
Whoa, Jenny. I use the other pic you sent as my background. Eric says he needs more jack-off material, but I don't want him around my new phone. He has a loose cannon, if you know what I mean.
-Trey
Entry 2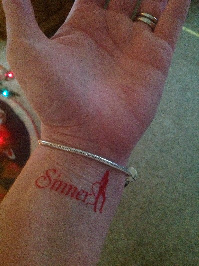 Amber Gives Sinners a Hand
Job. Sorry, I can't help myself. This is a perfectly decent picture until I start picturing your hand doing perfectly indecent things.
-Trey
Entry 3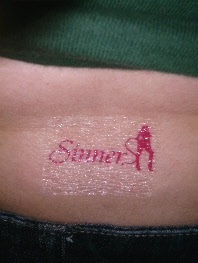 Stephanie's Sexy Spot
This makes me want to stick my cherry sucker right there (you know where) and lick the sticky off.
-Trey
Entry 4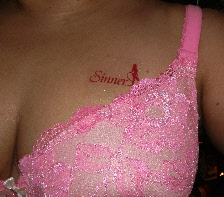 Margo Offers Many Views
I'm glad you couldn't decide which picture of your new tattoo to send. For me, the choice was easy. The one with the cleavage. Gives me a nice place to warm my c**k in the winter.
-Trey
Entry 5